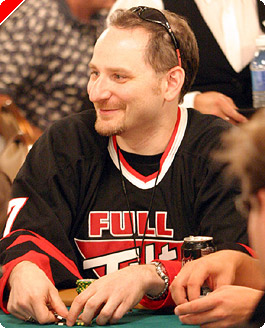 Andy Bloch was a member of the world-famous MIT Blackjack Team that won millions of dollars at casinos around the world in the 1990's. A book called Bringing Down the House was written about this team of brilliant blackjack players and a feature film is being made about this team's exploits and the fear they struck into the hearts of casino owners and operators around the world.
Since graduating from high school, Andy Bloch has made a living from inventing and perfecting strategies to bring down the house. He's incredibly bright – he has two degrees in electrical engineering from MIT and a Harvard Law degree. He hasn't used any of these degrees though and has made more than many of his former classmates purely from the finding mathematical ways to extract value from casinos and gambling.
"Any casino game can be beat with the right strategy and the right amount of time", Bloch says. "The key is how much money can you expect to win and whether it's worth your time. You need to pick the most favorable situation and go with it."
Although he made his fortune initially from perfecting blackjack counting strategies, it wasn't blackjack Bloch initially attacked with computer strategies and a loyal team of associates. In the 1990's, Foxwoods's Resort and Casino offered a version of an almost unknown game called Six-Card Wild Bill Hickok Poker. As it wasn't very popular, Foxwoods toyed with the rules to make the game more enticing. The rules changes were all Bloch needed – using computer models, Bloch developed and perfected a strategy which gave his team a massive 6% edge against the casino. In gambling terms, this is a huge edge. He put together a bankroll and used his MIT connections to create a team which he used to attack the game at Foxwoods. Foxwoods worked out what Bloch was doing fairly quickly though.
"They caught on," Bloch says. "We were not losing at the expected rate and it's pretty obvious when the same guys are playing the same game all the time. They knew we were beating them, but they didn't know why. So they changed the rules."
Andy Bloch then moved on to blackjack and is one of the few true world-class blackjack counters who has been willing to talk about his skills. He is now one of the best poker players in the world, but his early success was all from blackjack. After his limited success at Foxwoods beating the Hickok Poker game, he was invited to join the MIT Blackjack team. They wouldn't have known it at the time, but they were destined for fame and fortune. They won millions of dollars from their blackjack counting strategy, and more importantly, from the strategies they used to avoid detection. If casinos detected what they were doing, they would have been banned.
Bloch points out that there are three essential aspects to being a successful blackjack counter:
Basic Blackjack Strategy – you simply have to master basic strategy and you can find the information you need in any blackjack book or on the internet.
Card Counting – there are a number of various card-counting theories and most are incredibly complicated and hard work to implement. The key is practice, practice, practice – according to Bloch. He also believes discipline is very important.
Camouflage – although blackjack counting is not technically illegal, many casinos treat it as if it is. They will ban you on the spot if they believe you have the skills to beat their games. Therefore, its important to be able to camouflage your abilities and skills. This is easier said than done, as many casino staff now know what to look for if they are trying to spot blackjack counters.
After his success at blackjack, Bloch was looking for another game that would test his calculating mind. He walked into the Foxwoods poker room in 1992 and hasn't looked back. In the first season of the World Poker Tour (WPT), Bloch made two final tables (Foxwoods World Poker Finals and Commerce Casino LA Poker Classic). He finished 3rd in both events, becoming a household name.
Ed note: Andy Bloch is now a Full Tilt poker pro.