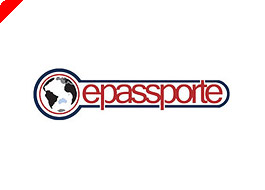 ePassporte is another excellent alternative payment method to fund your online casino account. ePassporte is an anonymous pre-paid and re-loadable virtual VISA. You can use this virtual VISA to make purchases online anywhere VISA is accepted as well as using it to fund your online casino account.
Creating an ePassporte account is straightforward. Simply visit the ePassporte website and fill out your personal details. You'll have to provide your credit card details in order to first fund your account. Usually they will verify that you are the owner of the credit card by sending a small pending charge to your account which you must identify and report back to ePassporte to verify that you are the owner of that card. You are only required to do this once and it ensures the security of your account.
Once your account is verified you can fund your ePassporte account instantly from your credit card. For future transfers you can also add a bank account to your personal profile and use it when transferring funds.
Security of your account and funds is not a problem. All ePassporte Virtual Visa transactions are CVV2/CVC2 protected which provides the highest security and protection against fraud on the Internet.
Once you have funds in your ePassporte account, transferring it into your online casino account is very simple. Just login to your favourite online casino, visit the Cashier, look for the ePassporte option in the list of deposit methods and follow the prompts. You will be directed to the ePassporte website to complete the transaction where you simply need to enter your ePassporte account details so that the online casino can verify that you have sufficient funds to make the deposit. One of the great benefits of using ePassporte is that it can be used to fund your online casino account instantly without the worry of having the charge declined by your bank as the funds are already verified and sitting in your ePassporte account.
Another fantastic reason to make use of ePassporte as an alternative payment method is the option of their physical debit card which is linked to your ePassporte account. You can use the debit card to make over-the-counter purchases anywhere in the world that you can use your normal VISA credit card. This is a fast and effective way to withdraw funds instantly from your ePassporte account.
So if you are looking for an alternative payment method to fund your online casino account then checkout ePassporte for a secure and effective option that's as easy as using your credit card!