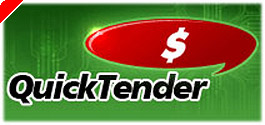 UseMyWallet/QuickTender is a secure and trusted payment service that is now available at many online casinos. QuickTender have many years of experience with secure payment systems across the Internet to allow their customers to make instantaneous purchases online and transfer of funds between merchants.
A QuickTender account acts like an electronic wallet enabling you to deposit and withdraw funds using a variety of payment methods. Funds held in your QuickTender account can be spent on purchases at Internet based merchants worldwide who accept QuickTender/UseMyWallet. Many online casinos now offer UseMyWallet as an alternative payment method – just visit the Cashier of your favorite online casino and look for the UseMyWallet logo.
One of the great features of UseMyWallet is that it fully supports US customers. It's totally free to register and create an account, and both US and International customers can fund their accounts at the QuickTender website in their preferred currency through a variety of payment methods including Credit Card, MoneyGram or International Bank Transfer.
Once your QuickTender account has been funded it's simple to transfer money into your online casino account. Login to the casino and visit the Cashier. Look for the UseMyWallet logo, fill in your account details and the amount and then follow the prompts to submit your request. There are no fees to transfer to online merchants, and your casino account will be instantly credited so you'll be able to hit the tables immediately!
Withdrawals are just as straight forward. Just login to your account at the QuickTender website and you can withdraw by Bank Transfer or Check.
QuickTender uses the highest levels of Internet security to protect your information and transactions online. All connections and data transmissions on protected pages are encrypted by SSL and QuickTender uses sophisticated fraud detection and ID verification systems backed up by a dedicated team of risk experts.
If you ever have any problems you can always contact their dedicated, European based Customer Support Team by email and they will happily reply by email or phone call.
If you are looking for an alternative payment method that supports US customers then we highly recommend that you check out UseMyWallet/QuickTender for an instantaneous and totally secure method to transfer funds into your online casino account!