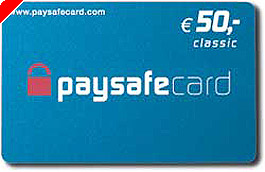 Paysafecard is becoming the number one quick-stop card for European residents. Forget using a bank account or a credit card. Using Paysafecard is just like paying with cash – but it can be done over the internet.
Similar to buying pre-paid phone credit, Paysafecard is a prepaid card which is perfect for the casual punter or serious online casino player. The best part about the payment method is that no personal details are required, making it one of the easiest ways to get a little bit of spare money into an online account.
To sign up, find the nearest Paysafecard retailer – this shouldn't be too hard because there are more than 90,000 retailers in Europe! The cards are distributed in dominations of 10, 25, 50 and 75 in British Pounds and 10, 25, 50 and 100 in Euros.
Up to 10 Paysafecards can be combined for a single payment which allows cardholders to use up a residual credit on their current card.
The card is great for Online Casinos but can also be used to pay for just about anything online. Each card has a 16-digit PIN code which ensures security.
Now with a Paysafecard in your hands, you can throw a few dollars into your favourite Online Slots game or maybe play a few hands of Blackjack.
After you've had a play, you can check your online credit balance by logging on to the Paysafecard webpage.
The biggest benefit of having the Paysafecard is having the freedom to not provide any personal details or disclose any bank account information.
The card is easy to use, completely risk free and is perfect for the casual punter or for those wanting to keep to a daily, weekly or monthly budget.
And outside of Online Casinos, the Paysafecard can be used at more than 2,000 online shops for buying tickets, books, games and anything else that takes your fancy.
Try looking in your local tobacco shop, electronic store or internet café to buy a card or search the Paysafecard website to find your nearest retailer.
If you prefer staying indoors try purchasing a card online. A Paysafecard can be ordered online via direct debiting, bank transferring or credit card.
Remember, the key to the card is its ease, privacy and quick-stop features.