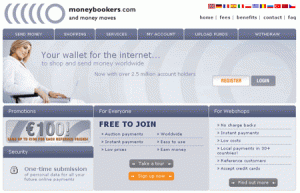 Christmas is coming early this year for VIP account holders at Moneybookers, with their latest upgrade featuring enhanced usability and options for all VIP account holders. As one of the largest online payment and money transfer services on the internet, Moneybookers continually improves and enhances their online services.
The first of the latest batch of updates is that deposits are now 100% free for VIP account holders until the 31st of December, 2008. Whether you're depositing money via credit card, or receiving funding via your bank account to play at Online Casinos like InterCasino, you are no longer charged any fees!
Next on the list is the removal of transaction limits permanently. Moneybookers realises high rollers often need to transfer large amounts of money, and that online casinos often need to pay out large winnings, so Moneybookers is removing the transfer limit cap altogether. VIP account holders no longer have to work around the system or wait multiple days simply to transfer a large amount.
VIP account holders can now also remove their credit card limits. Moneybookers normally enforces a credit card limit to prevent a person stealing your information and then taking thousands of dollars from your card. However, they also recognise that some people need access to all of their funds at all times, which is why they have introduced this feature.
Additionally, from January 2009, Moneybookers will also be launching their Moneybookers VISA card. This will give you access to your Moneybookers funds at all times from any banking vendor! You will be able to transfer your winnings from Online Casinos such as PartyCasino, then simply take the money out from your most convenient banking location.
And don't forget that using Moneybookers can be a very profitable venture for new players. Many Casinos such as Casino Tropez offer special deals when you deposit using Moneybookers. In this case, you'll receive a free 100% up to $100 sign-up bonus as a new player, but you'll also receive a 10% extra bonus simply for using Moneybookers!
So why not use Moneybookers to sign up and deposit into one of the great Online Casinos mentioned above? Simply by using Moneybookers, you can have peace-of-mind with your online gambling bankroll as well as receive all the advantages listed above.