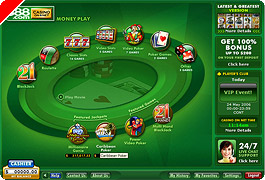 Over April 5 and 6, Casino-on-Net 888 are bringing you a great Roulette promotion whereby 200 winners will share in a guaranteed prize pool of $17,500. Simply deposit $100 each day during the period and try to earn as many Comp Points as possible to be eligible for a first prize of up to $9,000! The top 10 Comp Point earners across the two day period will share in a prize pool of $9,600, whilst the top 100 earners from each day will share the spoils of the remaining $7,900.
888 Casino's Roulette Tournament is just one of a myriad of promotions this month.
Over the 13th and 14th of April, $3,300 is up-for-grabs in Video Poker Tournament, with the top Comp Point earners receiving their respective shares. Just deposit each day you wish to be considered and get playing.
Furthermore, 888 Casino is presenting players with Insurance Day on April 3. This generous offer allows for any player who deposits at least $100 on April 3rd to recoup 10% of losses (up to $500) should their bankroll hit zero.
So get playing some of your favourite 888 Casino games to start earn free money.
Note: All leaderboards can be tracked by visiting the Casino-on-Net 888 website and clicking on the "Race Results" tab. All bonuses will be credited within 24 hours of the event.