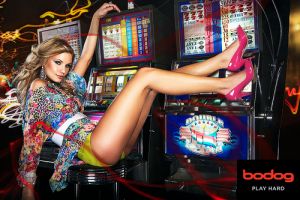 Casino.Pokernews.com is your source for up to date online casino news!
Bodog Casino continues to lead other online casinos with new ways to earn cash in their popular on-line casino at Casino.Bodog.com.
In addition to an unlimited deposit bonus (which is very rare in the industry), Bodog leads the way with impressive Cash Comps to frequent casino players. They're also currently offering weekly cash prizes to the site's top craps players with their Hard Ways Dice Contest that rewards those players that like betting for hard doubles at Bodog Craps. That contest has a grand prize of $1000!
Bodog's earning possibilities don't stop there! You can earn an enormous $250 with their refer-a-friend program and you can even cash in on your own screen shots. Big winners are paid an additional $50 for good screen shots of their Bodog Casino triumphs!
The download version of the Bodog Online Casino features more than 75 casino games including 20-line slots. The site also offers a popular mobile version that allows you play dozens of casino games anytime anywhere via mobile. Bodog Casino is one of the few online casinos that welcomes players from the United States.
Last month produced several huge winners at Bodog Casino as the top 20 winners walked away with over $730,000 in total winnings!
Bodog Casino is a Casino.Pokernews.com recommended site. The Bodog empire has been in business since 1995 and has since grown to be one of the largest online gambling companies in the world. They offer a good variety of games with excellent odds for the player. Among their offerings is Full-Pay Jacks or Better returning 99.54%, six other video poker games paying over 99%, single-zero roulette and two blackjack variants with a house edge under 0.2%!
Don't Forget: Casino.Pokernews.com brings you a special unlimited deposit bonus at Bodog.